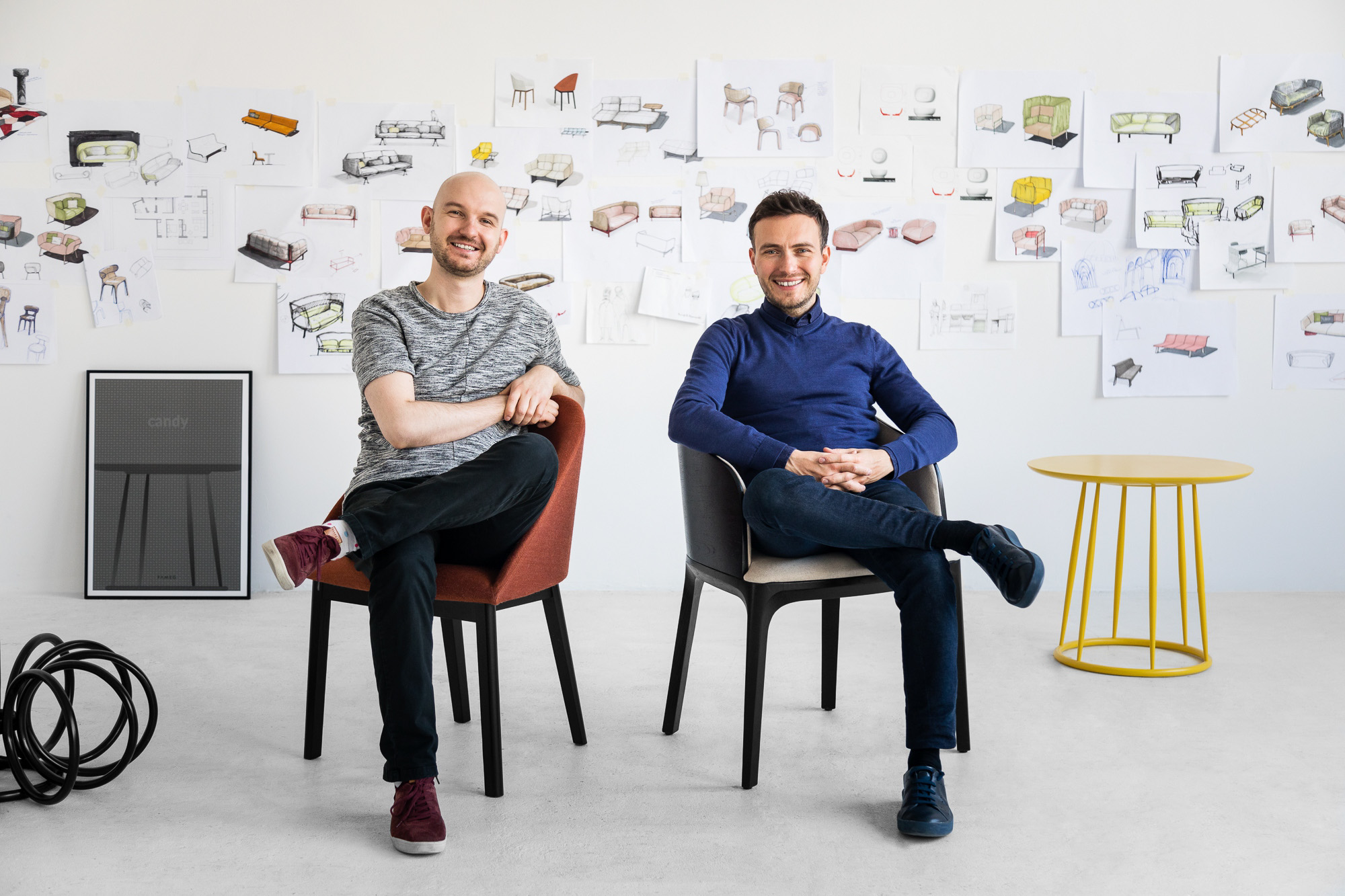 We are a product design studio. We combine different temperaments while working together in a creative and friendly atmosphere. Each product designed by us is unique, however, we also want it to be timeless and long-lived. Apart from designing products our studio creates exhibition space and graphic design.
Our small design studio focuses on the quality of design solutions and work atmosphere. We reject the corporate nature of a studio in favour of friendly relationships that enable a free, unrestrained flow of thoughts. While working with young designers we share our professional practice and they give us a fresh perspective. Both of us are also university teachers who share their work experience with students. We believe it to be a good practice and completion of designer's life cycle. We are a team based on rules of co-operation; we act in the common interest of our studio and each member of the team works throughout all stages of product design: from conceptual to production phase. With regard to maintaing healthy attitude towards work, we take a month off to travel every year. We believe that who we are as people determines who we are as designers. Each of us travels to different parts of the world, explores new culture, observes people and objects. These experiences are then transformed and implemented into our design values. We choose producers carefully. It is not the size of the company that matters but its values and awareness. One of our top priorities is sustainable design. Having worked hard to get where we are now, we cooperate with partners for whom sustainability is also an important aspect. We want our products to be passed on to next generations as it used to be. We want them to be repaired instead of thrown away. In order to achieve it we use durable, natural materials that age in a noble manner. When it is possible ,we make sure that our products can be recycled if no longer needed. This is one of our aims when designing our products. By doing so we minimise a negative impact that always accompanies production process.
Our studio in 2020. was on the list of the most promising young design studios selected from around the world by Dezeen.

Jesteśmy autorskim studiem zajmującym się projektowaniem produktu. Łączymy różne cechy i temperamenty w atmosferze twórczej i przyjacielskiej współpracy. Chcemy, aby każdy zaprojektowany przez nas produkt miał swój niepowtarzalny charakter, jednocześnie dbamy, aby był możliwie ponadczasowy i długowieczny. Poza projektowaniem produktu zajmujemy się również projektowaniem przestrzeni wystawienniczych oraz grafiką użytkową.
Jesteśmy kameralnym, autorskim studiem, które stawia na jakość rozwiązań projektowych oraz atmosfery pracy. Odrzucamy korporacyjny charakter studia na rzecz przyjacielskich relacji, dzięki czemu możliwy jest nieskrępowany przepływ myśli. Współpracujemy z młodymi projektantami, którzy uczą się od nas praktyki zawodowej, jednocześnie wnosząc swoje świeże spojrzenie. Jesteśmy również obaj nauczycielami akademickimi, nasze doświadczenia zawodowe przekazujemy studentom. Wierzymy, że jest to dobra praktyka i domknięcie całego cyklu życia projektanta. Zespół pracuje na zasadach partnerskich, wszyscy działamy we wspólnym interesie studia, każdy z członków zespołu pracuje nad wszystkimi etapami rozwoju projektu od koncepcyjnego po wykonawczy. Dbamy o higienę pracy, co roku opuszczamy biuro na miesiąc, żeby wyruszyć w podróż. Wierzymy, że to jakimi jesteśmy ludźmi wpływa na to jakimi jesteśmy projektantami. Każde z nas udaje się w inny zakątek świata, gdzie poznajemy obcą kulturę, przyglądamy się ludziom i przedmiotom. Przywozimy te doświadczenia do studia i przekładamy na wartości projektowe. Starannie dobieramy do współpracy producentów, patrząc na nich przez pryzmat świadomości i wyznawanych wartości nie na wielkość przedsiębiorstwa. Jednym z priorytetowych dążeń studia jest świadome projektowanie z szacunkiem dla środowiska naturalnego. Mimo, że pracujemy w branży dóbr materialnych, staramy się, aby nasze produkty opierały się czasowi zarówno estetycznie jak i fizycznie. Chcemy, żeby nasze produkty były jak dawniej przekazywane z pokolenia na pokolenie, żeby były naprawiane – nie wyrzucane. Aby realizować to założenie, korzystamy z trwałych, naturalnych materiałów, które starzeją się szlachetnie i kiedy to możliwe dbamy o to by produkty rozkładały się na jednorodne materiałowo elementy. Staramy się minimalizować negatywny wpływ, który występuje zawsze w procesie wytwórczym.
Nasze studio w 2020r. znalazło się na liście najlepiej zapowiadających się młodych biur projektowych wyselekcjonowanych z całego świata przez Dezeen.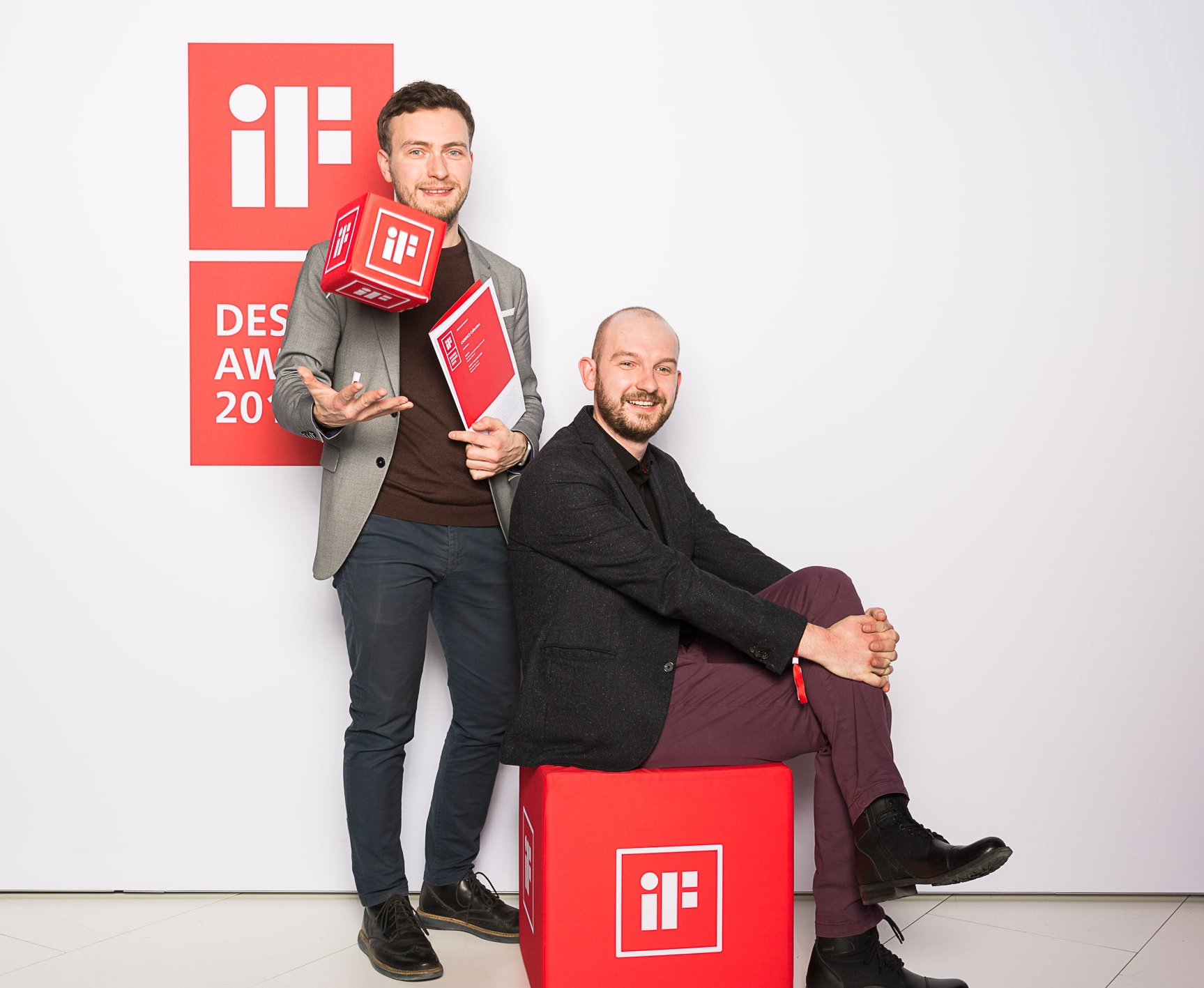 AWARDS:
2022:
– German Design Award Special Mention for NEO by OMNIRES
– Red Dot Design Award for NEO by OMNIRES
– Must Have for MIAM by LOFT DECORA
– Must Have for HUG ME by NOTI
– Must Have for NEO by OMNIRES
– Must Have for SULA by HOLME
2021:
– Must Have for LUA by NOTI
– Must Have for OTOK by ZC "BOLESŁAWIEC"
– Must Have for BOTO by HOLME

2020:
– Design Alive Awards – Creator Nominee
– Dobry Wzór – GROP by LOFT DECORA
– Longlisted for the Dezeen Awards in the category Emerging Designer of the Year
– Must Have for GROP by LOFT DECORA
– iF Design Award for LOPP by NOTI

2019:
– Decoration of Honor Meritorious for Polish Culture (Polish: Odznaka Honorowa "Zasłużony dla Kultury
Polskiej") for Bartłomiej Pawlak
– Decoration of Honor Meritorious for Polish Culture (Polish: Odznaka Honorowa "Zasłużony dla Kultury
Polskiej") for Łukasz Stawarski
– Acanthus Aureus at Meble Polska for stand for FAMEG
– German Design Award Winner for ARCH by FAMEG
– Must Have for LOPP by NOTI

2018:
– Good Design Award for CADENCE by MARMITE
– Dobry Wzór – product recommended for the competition – CADENCE by MARMITE
– Dobry Design for STIGE by VOX
– German Design Award Special Mention for 1620 by FAMEG
– German Design Award Special Mention for CADENCE by MARMITE
– Grand Prix at Warsaw Home for stand for FAMEG
– Best Stand in SELECTED DESIGN at Warsaw Home for stand for FAMEG
– Must Have for CADENCE by MARMITE
– Second place in 56 StandOUT (Meble Polska) stand for FAMEG
– Top Design Award for CADENCE by MARMITE
– iF Design Award for CADENCE by MARMITE
– First place in 52 StandOUT (imm cologne) stand for FAMEG

2017:
– Must Have for B-1620 by FAMEG
– Must Have for NOOBE by ENVY

2016:
– i-Wielkopolska for SURGICAL SINK by ALVO MEDICAL
– Dobry Design for NEST by VOX

2015:
– i-NOVO distinction for SURGICAL SINK by ALVO MEDICAL
– Dobry Design distinction for MUTO by VOX
– Dobry Wzór – finalist of the competition – for MUTO by VOX